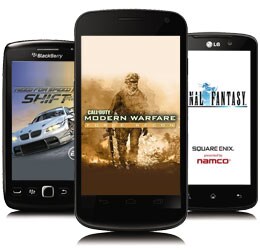 Games
Have fun on the go with games you'll want to play all the time: Action, poker, arcade classics, puzzles, strategy and more.
starting from: $3.00 plus download fee*
Need help with your purchase?
---
More ways to shop
Call us at

1 888 4-MOBILE (662453)
We've got your favourite titles from the world's leading gaming providers like Electronic Arts, Glu and Gameloft. Play wherever you are, whenever you want.
* The download fee is a data transfer fee that applies to all purchases from this Service in lieu of applying any other data transport fee based on the wireless services on your account.