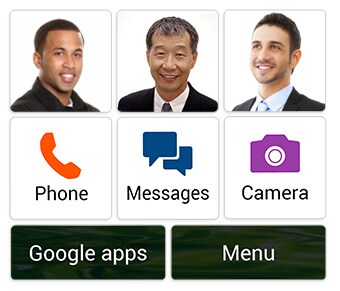 Simplified user interface
With specially designed apps and an easy-to-read 5" HD screen, it's easy to use email, access your camera, browse the Web or message your contacts. The Doro 824 is intuitive and understandable with larger fonts and a simplified menu. Plus, the Google TalkBack feature helps low-vision users navigate.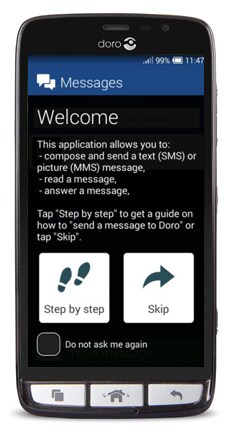 Safety and support features
Need a little help setting up? Step-by-step guides and videos will coach you through the basic features, helping you understand your new phone. The My Doro Manager app lets others remotely manage settings, share photos, set up accounts, add calendar appointments and more.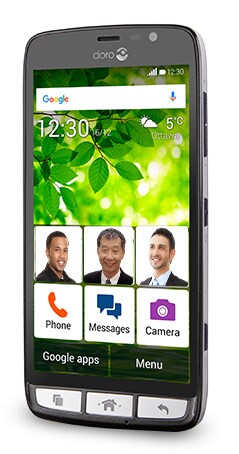 Modern design
Get the stylish design of the Doro 824 with the simplicity of basic phones powered by Android 5.1.1. Ergonomic and grip-friendly, it comes designed with physical buttons for calling and camera.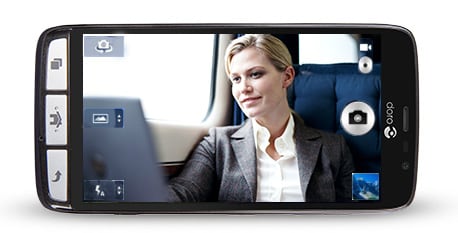 HD camera and sound
Grab the photos you need with the 8-megapixel camera. Taking that snap is easier than ever with a dedicated physical camera button. Plus, with the 2-megapixel front-facing camera and the Google Hangouts app, you can stay connected through video conferencing.
Need some extra help? The Doro is hearing aid compatible and provides loud, crystal clear sound.
Canada's best national network.
The Bell network outperformed all other national wireless carriers for combined data, voice, reliability and network coverage.
Get more from your mobile technology.
Bell representatives are experts in wireless technology and are specially trained to provide you a solution tailored to your business.
Speak to a dedicated business expert today.
Visit a Bell store or schedule a call back.
Protect your mobile investment with Smart/Phone Care.
Smart/Phone Care gives you and your team additional coverage and peace of mind knowing that you don't have to pay the full replacement value of your business devices.