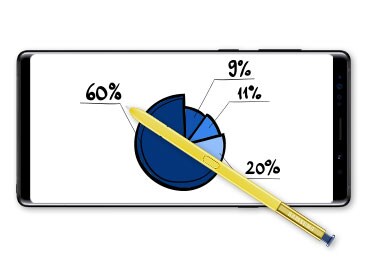 Work better and faster
The Bluetooth-enabled S Pen with remote control makes it easy to transition through presentation slides from across the room or take notes during a meeting.

A charge that lasts as long as you do
From a.m. to p.m., take on more with a single charge. The Samsung Galaxy Note9 is built with a long-lasting, all-day battery1, so you can go from catching up on your emails, to taking your calls, to giving that keynote presentation seamlessly.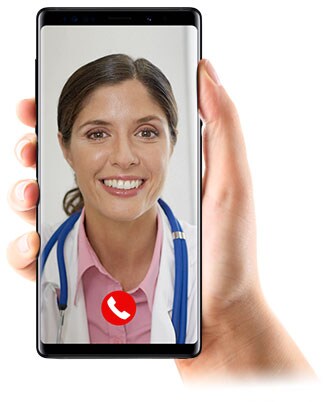 Do more on the go with a 6.4" screen
Whether you're planning a presentation, marking up documents or taking a video conference call, work better and faster with the large 6.4" screen on the Samsung Galaxy Note9.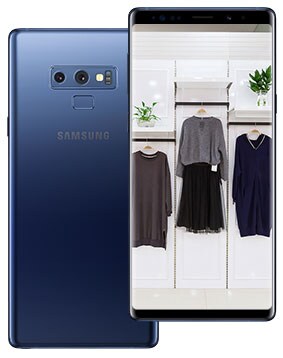 Super-intelligent camera
Take brilliant photos effortlessly with automatic Scene Optimizer on the new super-intelligent 12 MP camera. With Flaw Detection technology, the Samsung Galaxy Note9 will alert you to any smudges, blurriness or closed eyes, so you always get the perfect picture.
Plus, with the dual camera, take advantage of cool effects like bokeh, or record in Super Slo-mo to really enhance the moment.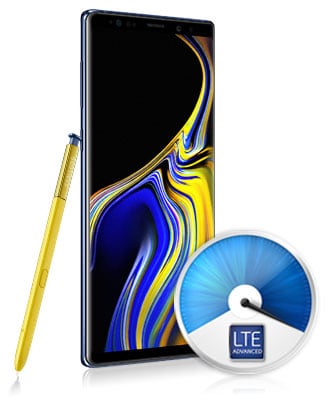 Get the most advanced network technology for your business
Manage your workload wherever your day takes you with coast-to-coast coverage on Canada's best national network.2 With the power of the Bell network, the Samsung Galaxy Note9 is capable of peak theoretical download speeds of up to 750 Mbps.*
* Expect average speeds of 25–185 Mbps.
For coverage details in other areas, visit bell.ca/mobilenetwork.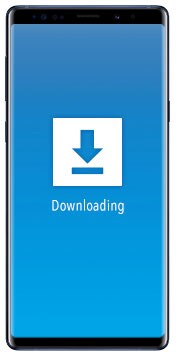 Access documents with 128 GB of built-in storage
Download files from your team at blazing-fast speeds without worrying about running out of space. The Samsung Galaxy Note9 storage capacity also expands up to 512 GB.3
Plus, enable DeX mode to transform the Galaxy Note9 into a desktop-like experience with a single cable.
Canada's best national network.
The Bell network outperformed all other national wireless carriers for combined data, voice, reliability and network coverage.
Get more from your mobile technology.
Bell representatives are experts in wireless technology and are specially trained to provide you a solution tailored to your business.
Speak to a dedicated business expert today.
Visit a Bell store or schedule a call back.
Protect your mobile investment with Smart/Phone Care.
Smart/Phone Care gives you and your team additional coverage and peace of mind knowing that you don't have to pay the full replacement value of your business devices.