Signed, sealed, delivered
You're on a business trip and receive an email – Urgent: Feedback and sign-off required. With the Galaxy Note8, you can capture, annotate and sign documents directly on your phone using the intelligent S Pen. Plus, you can instantly send the electronic copies back from anywhere on Canada's largest LTE network.
Next-level notepad
When a great business idea comes to mind, just take out your S Pen and start writing. The Galaxy Note8's Always On Display (AOD) instantly captures your thoughts without having to unlock your phone. And when you're done, you can pin it to the AOD to keep it handy or save it directly to Samsung Notes.
Never lose your notes
After a white boarding session, use the Galaxy Note8 to easily capture and share your ideas with your whole team without having to write them down. Simply take a picture of the board, open it in your gallery, and use the S Pen to select and extract the notes onto your clipboard. Then, paste your notes as plain text into an email and instantly send them to your team. No great idea gets left behind.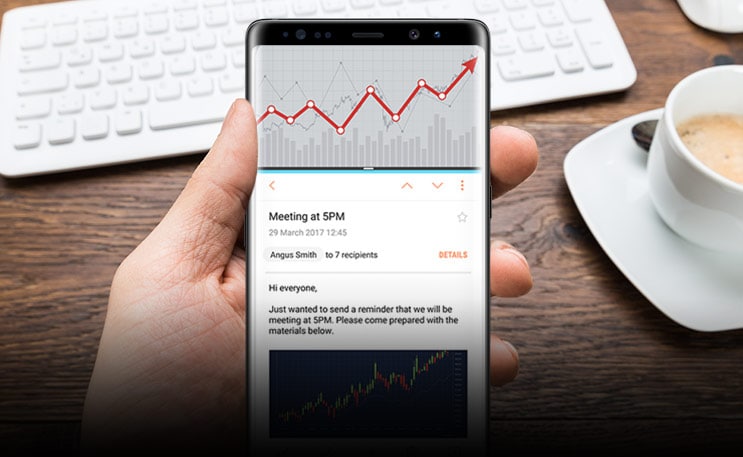 See two apps at once with Multi Window.
With the intuitive Multi Window feature you can multitask with ease by launching two business apps with just a tap and viewing them side-by-side on the immersive Infinity Display.
Two apps, one (big) screen
While you're on the road you receive an email – low inventory on your top selling product. With the Multi Window feature on the Galaxy Note8 you can launch two apps at once and use them side-by-side, taking advantage of every pixel of the immersive 6.3" Infinity Display. This means you can use one half of your screen to view inventory levels, and the other to send the purchase order through to your provider.
Always ready for business
In today's world, business doesn't always stay in the office. Sometimes you need to be ready at a moment's notice, or even while you're on the go. With a 6.3" Infinity Display, you can use your Galaxy Note8 to make a pitch or showcase your products easily and in high quality, all on a device that was designed to fit comfortably in your hand. With its powerful processor, the Note8 keeps things running smoothly when you're using memory-intensive applications, working on large-scale projects and running multiple tasks at once.
Take stunning photos with the dual lens camera.
The Galaxy Note8's new dual-lens camera has professional DSLR technology that gives you depth-of-field, anti-blur and low-light clarity for incredible photos that are easy to capture. You can even take sharp close-up photos with 2x optical zoom.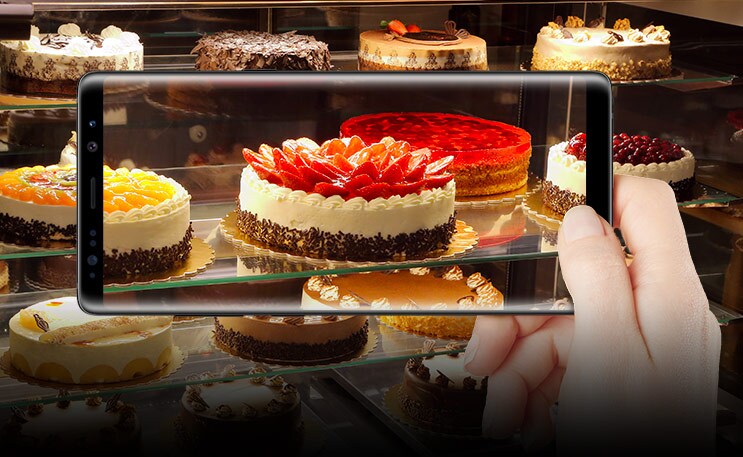 Picture perfect
When you take pictures of your products or services, use your Galaxy Note8 for crisp and vibrant results. A first for Samsung, the Live Focus feature lets you adjust the amount of blur behind your subject, making for professional-looking photos every time. Plus, you can post pictures to your social media accounts wherever business takes you on Canada's largest LTE network.
Unlock with iris scanning technology.
Protect your confidential information with world-class security features on the network that's trusted by the Canadian government and banks. Plus, secure your phone with quick and convenient iris scanning technology.
Trusted security built in
Use your Galaxy Note8 to confidently process payments faster and easier with Samsung Knox and Bell. The Knox security platform safeguards your data around the clock with multi-layered security features and hardware-based encryption, all on the network that's trusted by the Canadian government and banks.
Get information faster.
The Galaxy Note8 is built to reach peak theoretical download speeds of up to 750 Mbps (expect average speeds 25-220 Mbps) in select areas* – that's up to 2x faster than before.3 You can be confident that your business has the speed it needs to do more and make more every day with Bell.

(*) Available in Ancaster, Barrie, Brampton East, Burlington, Kitchener, London, Niagara Falls, Oshawa, Pickering, Scarborough and Welland.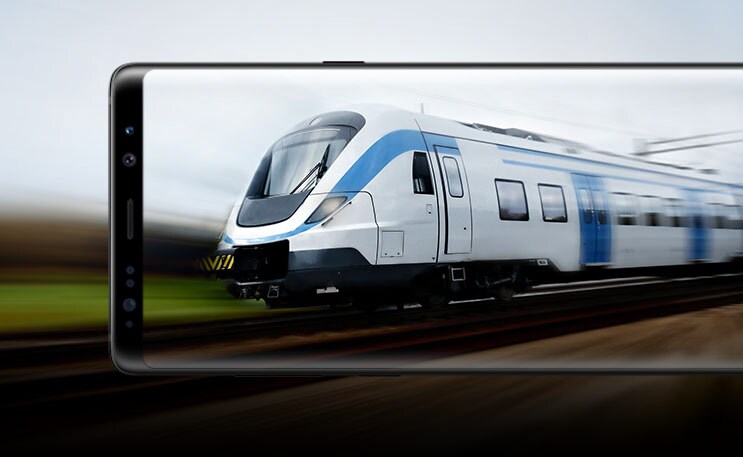 The speed you need
When you need to submit an urgent proposal to your boss or bid on a home for a client, use your Galaxy Note8. Its powerful 10nm AP processor on Bell sends and receives business-critical information fast, so you never miss an opportunity.
Order the Galaxy Note8 for your business today.
View additional details
Based on a third party score (Global Wireless Solutions OneScore™) calculated using wireless network testing in Canada against other national wireless networks of combined data, voice, reliability and network coverage.
Based on total square km of coverage on the shared LTE network available from Bell vs. Rogers' LTE network. See bell.ca/LTE for details.
Up to 2x faster is based on Bell's previous expected average speeds and Bell's current expected average speeds with compatible devices in select areas. Speeds may vary due to topography, environmental conditions, device type and other factors. See bell.ca/network.