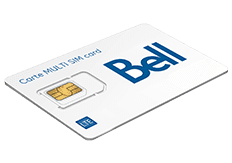 Regular SIM card; also punches out into a micro and nano SIM card.
Offer details/trademarks


(1) Based on a third party score (Global Wireless Solutions OneScore™) calculated using wireless network testing in Canada against other national wireless networks of combined data, voice, reliability and network coverage.
(2) Note: Your Bell SIM Card may not be compatible with all Bell devices. See Bell Mobility Terms of Service for more details.