Keep up with customer demand.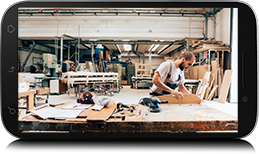 To keep your business running smoothly you need a mobile network you can count on. Whether you're processing a rush order or responding to a client, checking inventory levels or taking mobile payments, you can do it all with the latest devices on Canada's best national network.1
Devices that are built to last.
Take advantage of a limited-time offer.
Get a bill credit of up to $100 when activating select smartphones on select 2-year business Share plans.2
Visit a store
or call 1 855 272-0780 for details.
Find the plan that's best for you and your team.
Canada's best Push-to-talk solution.
You need to communicate with your team quickly and effectively, whether you're on the road or in the office. Bell's Push-to-talk (PTT) solution helps you stay connected to your crew with just the push of a button. Plus, you get access to Canada's largest LTE network3, so you can stay in contact with your mobile workforce no matter where their job takes them. Connect instantly with up to 249 contacts across the country and throughout the United States.
Learn more
View Additional Details
Based on a third party score (Global Wireless Solutions OneScore™) calculated using wireless network testing in Canada against other national wireless networks of combined data, voice, reliability and network coverage. Visit bell.ca/mobilenetwork.
Current as of August 15, 2018. Available with new activation on a 2-year Small Business Premium Plus, Premium Smartphone or Smartphone Share plan on the same account excluding individual plans. Applied as a bill credit in installments over 5 months, starting on the 2nd bill cycle. Credit depends on price of smartphone on a 2-yr term: ($200 credit for device priced $150-$199.99. $150 credit for device priced $100-$149.99. $100 credit for device priced $50-$99.99. $50 credit for device priced up to $49.99). A $35 one-time connection charge applies. 9-1-1 government monthly fee in Alta.: $0.44, N.B.: $0.53, N.L.: $0.75, N.S.: $0.43, P.E.I.: $0.70, Sask.: $0.94. Taxes extra.
Largest network based on total square kms of coverage on the shared LTE network available from Bell vs. Rogers' LTE network. See bell.ca/LTE for details.