Solutions for Construction
Get the right tools for the job.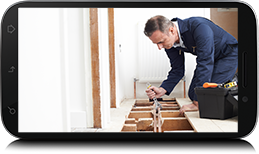 With an increasingly mobile workforce and busy job sites, your business needs a mobile network it can count on. Whether you're working in the city or the suburbs, Bell keeps your crew connected with the latest devices on Canada's best national network.1 Renovating a basement or building a high-rise? Our in-building coverage improvements deliver a stronger LTE signal in more places, even below ground.
Find the plan that's best for you and your team.
Canada's best Push-to-talk solution.
You need to communicate with your team quickly and effectively, whether you're on the road or in the office. Bell's Push-to-talk (PTT) solution helps you stay connected to your crew with just the push of a button. Plus, you get access to Canada's largest LTE network3, so you can stay in contact with your mobile workforce no matter where their job takes them. Connect instantly with up to 249 contacts across the country and throughout the United States.
Learn more