The best just raised the bar.
The Bell 5G network is here.2
5G is the next generation of wireless technology. With incredibly fast speeds and near-instant connections, 5G will enhance the lives of all Canadians with applications that we can't even imagine today, bringing generational changes to the way we work, live and play.
But, not all 5G networks will be created equal. For example, some 5G networks may actually be slower than Bell's industry-leading 4G LTE network, and that network is the foundation from which we are working to achieve our goal to build Canada's best 5G network.
More than ever, it will be critical for consumers and businesses to choose the best network. Because consumers and businesses that choose the wrong networks will not benefit from all that 5G has to offer.
And of course 5G will take some time to roll out across Canada, beginning with greater speeds in select areas of Western Canada, Ontario and Québec. So it is equally important that for the first 5G-capable devices and applications launched in Canada that they fall back to operate on a superb 4G network, when not in a 5G network area. That's why Bell is your best choice.
One of the fastest networks in the world4
Stream, download, browse and share at blazing-fast speeds from coast to coast. With Bell, you can access peak theoretical download speeds of up to 1 Gbps (expect average speeds between 18–115 Mbps). Plus, with LTE Advanced – the gold standard in network technology – we consistently deliver faster speeds in more places than any other network.
97% coverage across Manitoba.
Bell's 4G coverage now covers 97% of the Manitoban population. That's over 1 million people. Plus, we're working to give you access to even faster speeds as we continue to roll out the LTE Advanced network, which already covers 94% of the Manitoban population.
See coverage map
Coverage map
5G coverage
With Bell, you'll get the 5G coverage across Canada. Although the 5G network will take some time to roll out fully, it will begin with greater speeds in select cities, with more coming soon.
A reliable
connection.
Bell connects the vast majority of cell towers with fibre, the best network technology, to give customers a reliable connection. In addition, our in-building coverage improvements deliver a strong LTE signal. Backed by the latest network infrastructure technology, Bell also gives you access to a network offering the most cell towers connected by fibre.
Bell's dedicated team of 7,600 network employees are continuously working to optimize our network, all with the shared goal of providing Canadians with the absolute best, most advanced mobile experience.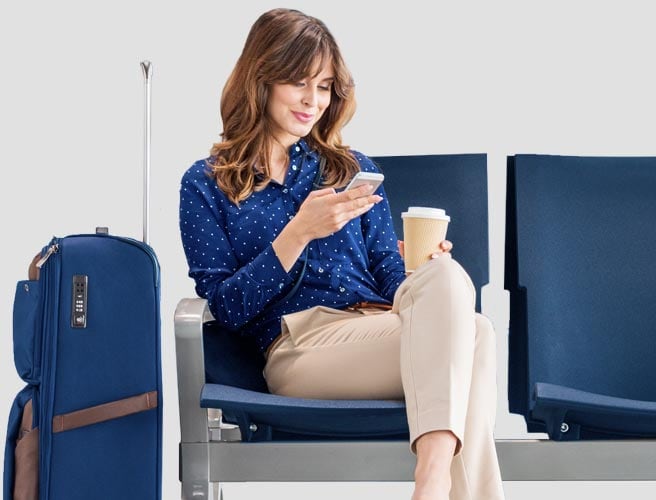 Traveling outside of Canada?
Bell is the first Canadian carrier to offer 5G roaming across the U.S. on select 5G devices. 5G Roaming is now available in several international destinations with more to come.
Enjoy fast speeds when downloading and streaming while you travel.
See available coverage
.
View additional details
View additional details
Internet traffic management practices (ITMP) for Bell Mobility. Speed and signal strength may vary due to traffic, topography, environmental conditions and other factors, like Bell's management of network resources, using methods which include Internet traffic management practices. See bell.ca/ITMP.
*5G available in select major areas of Vancouver, Calgary, Edmonton, Winnipeg, the Greater Toronto Area, Montreal and more. See bell.ca/5G.