Share and save with unlimited data for your entire team.
With Unlimited Share plans you can share data across all of the devices in your team – smartphones, watches, and tablets – without overage fees. Plus, the more team members you add, the more you save.
Essential 25
25 GB at speeds up to 250 Mbps & unlimited data at reduced speeds*
Unlimited Canada-wide calling1
Unlimited Canada-wide text, picture and video messages2
Each member brings 25 GB to the shared data pool.
* Beyond 25 GB of data, speeds are up to 512 Kbps.
** Applicable to new activations only.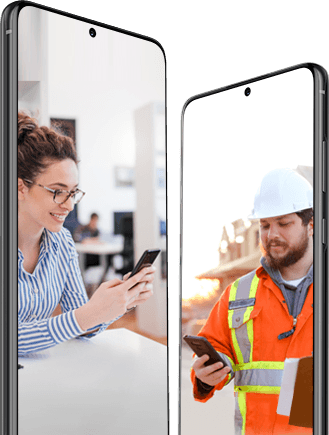 The more team members you add, the more you save.
Save $25/mo. for every team member on your account when you have two or more lines.3 Plus, every additional member brings their data to the shared data pool.

2 team members
Save $600
over 24 months

3 team members
Save $1,200
over 24 months

4 team members
Save $1,800
over 24 months
Connect your other devices and enjoy unlimited data from $10/mo.
Other plans for all your needs
See full offer details
5G is available with compatible devices. Coverage is approximate; actual coverage may vary and may not include indoor coverage; see bell.ca/5G. The 5G network symbol appearing on a 5G device while in use means that 5G is available on the Bell network in the surrounding local area of the device. Speed, performance and whether a 5G device uses the available 5G depend on various factors including topography, environmental conditions, the current serving radio conditions at your location, and whether the device is actively downloading or uploading data and subject to Bell's Internet traffic management practices (e.g., priority access to emergency personnel and critical infrastructure personnel). See bell.ca/ITMP. Outside 5G areas, 5G devices will continue to have access to our fastest 4G speeds available. Starting in select areas of Vancouver, Calgary, Edmonton, Montréal and the Greater Toronto Area.
Subscriber must be (and remain) a Canadian resident and the majority of your usage must be in Canada. Max. data usage per user may be capped at 10 GB/ billing period while in the U.S. Includes texts sent to a Canadian or U.S. phone number while in Canada and U.S., texts received while in Canada or the U.S. and excludes premium texts. While in the U.S., calls or texts to numbers that are outside of Canada and the U.S. are not included and will be billed at $1.45/min for calls and $0.15/text. Roaming outside Canada and the U.S. not included. Sending and receiving picture or video messaging in the U.S. and Push-to-Talk services use data from your rate plan.
Current as of May 5, 2022. Available with new activation when adding additional lines on eligible 2-year plans (excluding Business, Tablet and Mobile Internet plans). There must be a primary subscriber activated on the account with an eligible rate plan to receive a $25 per line discount. Primary line not eligible for additional line discount.