The next generation of Galaxy is here.
Introducing the Samsung Galaxy S20 5G series, capable to take full advantage of the Bell 5G network, (available in select cities). Shoot stunning 8K videos, take high-resolution photos in multiple ways and capture incredibly vivid images from a distance, even in low light conditions. Download, browse and share at blazing fast speeds. Simply spectacular.
Samsung. Best with Bell.
With Samsung's ecosystem of products and services, you can stay connected when you need to with your phone, tablet and watch.
Get the most out of your Samsung device when travelling – Bell offers the most LTE roaming destinations and extensive coverage in the U.S.
More Samsung devices you'll love
Stay connected to business with just your watch.
The Samsung Galaxy Watch keeps you connected to business without your phone. It has a long-lasting battery, built-in cellular technology, and uses your phone's wireless plan features, so you can send texts, get emails and even make calls directly from your watch.
Visit a Bell store
Always be able to find what's important to you.
The Samsung SmartThings Tracker offers on-demand location information of your valuables. Different from Bluetooth devices, it uses an LTE-M network connection.
Visit a Bell store
Take business on the road with the Galaxy Tab A.
Whether in the office or on the go, stay connected and productive with this powerful tablet. The Galaxy Tab A features a large screen with minimal bezels for optimal viewing, and Samsung Knox defense-grade security to keep data protected.
See the Galaxy Tab A 10.5"
See the Galaxy Tab A 8"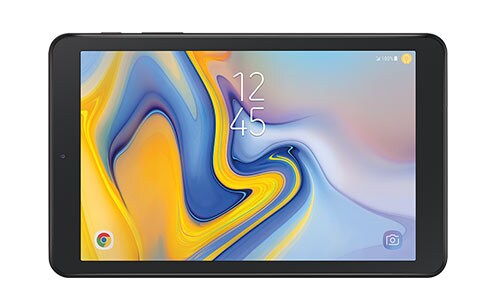 Keep your team connected with a great selection of plans for business.
View rate plans
Pair your Samsung device with the latest and greatest accessories.