Samsung Smartphones & Tablets
Samsung Galaxy Z phones.
Big screen. Big impact.
Experience the amazing business potential of the Galaxy Z Flip5 and Galaxy Z Fold5. These cutting-edge foldable glass screen phones enable note taking, message checking and seamless team collaboration through multi-window view. Enhance productivity and work confidently with Knox, a defense-grade security platform that ensures unmatched protection for your valuable and sensitive data.
Plus, when paired with Bell's 5G network, you can enjoy unprecedented speeds for high-definition video streaming with super-low latency.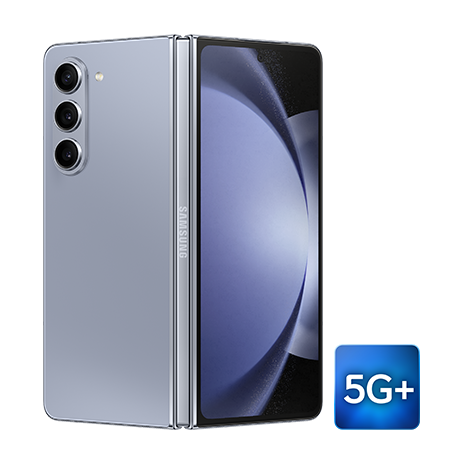 Expansive screen
Unfold a massive 7.6" screen to stream your favourite content or master gaming on the go.
Dual-app viewing
Easily view multiple apps on your screen at the same time.
Two screens in one
Enjoy a full cover screen for one-handed tasks or unfold to the larger screen for everything else.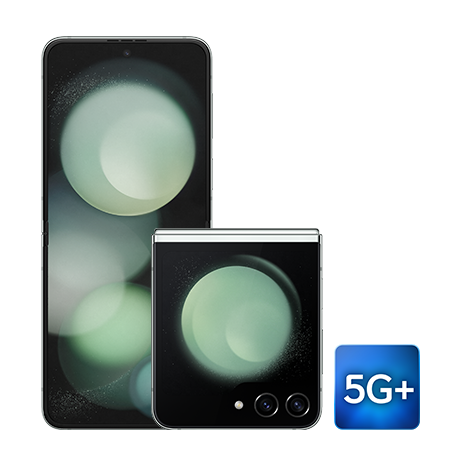 Conveniently foldable
Compact design that folds easily to fit in your pocket or purse.
New full-width cover screen
A larger cover screen lets you view selfies, text and call without opening your phone.
Samsung. Best with Bell.
Everything you do is better on a better network – and think of the thousands of things you do.
With Samsung's ecosystem of products and services, you can stay connected at all times with your phone, tablet, watch and tracker.
Get the most out of your Samsung device when travelling – Bell offers the most LTE roaming destinations.
Take advantage of the latest offers for your business.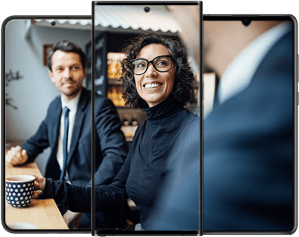 Unlimited data for the entire team.
Get unlimited data for all of your team's devices on Canada's best network.
Learn more
View our incredible selection of Samsung smartphones.
More Samsung devices you'll love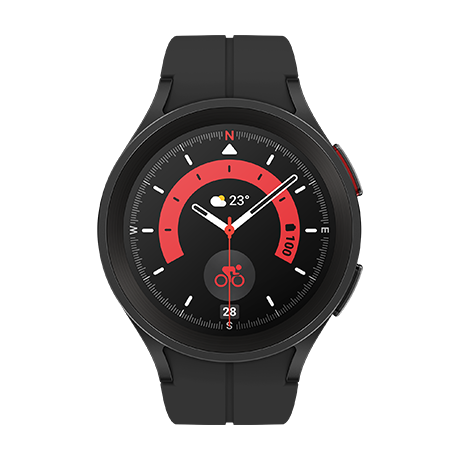 Stay connected to business with just your watch.
The Samsung Galaxy Watch5 Pro keeps you connected to business without your phone. On a walk or at the gym, the Galaxy Watch5 Pro will monitor your heart rate, body composition, stress level and more. Pair it with the Samsung Galaxy Buds2 Pro and listen to your favourite music while working out.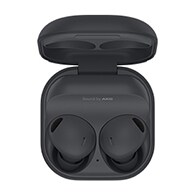 Immersive sound like never before.
Meet the Samsung Galaxy Buds2 Pro – wireless earbuds with innovative technology. Switch seamlessly between noise cancelling and adjustable ambient noise. You choose what you hear.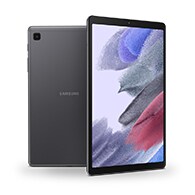 Take business on the road with the Galaxy Tab A7 Lite.
Whether in the office or on the go, stay connected and productive with this tablet. The Galaxy Tab A7 Lite features Dolby Atmos sound, a large screen with minimal bezel for optimal viewing and Samsung Knox defence-grade security to keep data protected.
Offer available July 26 to October 2, 2023. Based on a $350 trade-in bonus when trading in the Samsung Galaxy S21 Ultra (trade-in value $360). Other Galaxy S, Z or Note series phones will get $350 trade-in bonus and any other Android or iOS phone will get $150 trade-in bonus. Smartphone must have a minimum trade-in value of $25, in addition to our device trade-in price. If you upgrade early, any remaining monthly device payments and your remaining Agreement Credit balance (if applicable) on your current arrangement are payable. Must be 18 years old and legal owner of the device traded in. Max 1 device per trade-in. Rebate applies at the time of purchase on the price of the device and/or accessories in-store after taxes. For online trade-ins, a payment (in the form of a bill credit) for the trade-in value will be applied to your Bell Mobility account in the first or second bill cycle. Amount depends on the value of the device; not all devices are eligible. Device must power on and be functional. See bell.ca/tradein for details. This amount will be reduced when required by the Wireless Code. ↩
5G is available with compatible devices. Available in select areas of Vancouver, Calgary, Edmonton, Montréal, the Greater Toronto Area, and more. Coverage is approximate; actual coverage may vary and may not include indoor coverage; see bell.ca/5G. The 5G network symbol appearing on a 5G device while in use means that 5G is available on the Bell network in the surrounding local area of the device. Speed, performance and whether a 5G device uses the available 5G depend on various factors including topography, environmental conditions, the current serving radio conditions at your location, and whether the device is actively downloading or uploading data and subject to Bell's Internet traffic management practices (e.g., priority access to emergency personnel and critical infrastructure personnel). See bell.ca/ITMP. Outside 5G areas, 5G devices will continue to have access to our fastest 4G speeds available. Fastest based on a third party combined score (Global Wireless Solutions OneScore™) speed test results in 5G network areas from Bell. ↩
Based on a third party score (Global Wireless Solutions OneScore™) calculated using wireless network testing in Canada against other wireless networks of combined data, voice, reliability and network coverage. See bell.ca/network for details. ↩
Based on a third party score (Global Wireless Solutions OneScore™) calculated using wireless network testing in Canada against other national wireless networks of combined data, voice, reliability and network coverage. See bell.ca/network for details. ↩
Current as of May 5, 2022. Available with new activation when adding additional lines on eligible 2-year plans (excluding Business, Tablet and Mobile Internet plans). There must be a primary subscriber activated on the account with an eligible rate plan to receive a $25 per line discount. Primary line not eligible for additional line discount. ↩
Current as of July 13, 2023. With a new activation or upgrade. A $60 one-time Connection Service Fee applies. At participating locations. Must be 18 years or older and legal owner of the phone traded in. Max. 1 phone per trade-in. The minimum trade-in value of the device must be $25. Rebate applies at the time of purchase on the price of the device and/or accessories in store after taxes. Amount of rebate depends on the value of the phone. Device must power on and be functional. See bell.ca/trade-in for details ↩