Built-in accessibility features
These connected things are built with accessibility features, so you can interact and communicate the way you want.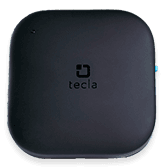 tecla-e is the latest portable, hands-free and cloud-connected device that allows people with physical mobility limitations to navigate an array of connected devices with ease.

Learn more
Need more info? Speak with one of our experts.
Accessibility services centre hours of operation
Monday to Friday
8:30 a.m. to 5 p.m. (eastern)
By phone
1 866 310-BELL (2355)
and ask for the Accessibility services centre
To contact the Accessibility services centre using a TTY
By mail
Accessibility
P.O. Box 8787
Downtown Station
Montreal, Quebec
H3C 4R5