Introducing the Samsung Galaxy S10.
From cinematic Infinity Displays to professional-grade cameras and vault-like security, this new line-up has you covered. These devices are even more spectacular on Canada's best national network.1
BONUS: order any Samsung Galaxy S10 and get:
Complimentary Samsung SmartThings Tracker2 ($99.99 value) with the first 6 months of this service free – only at Bell.
}
Samsung. Best with Bell.
With Samsung's ecosystem of products and services, you can stay connected at all times with your phone, tablet, watch and tracker.
Get the most out of your Samsung device when travelling – Bell offers the most LTE roaming destinations.
Everything you do is better on a better network – and think of the thousands of things you do.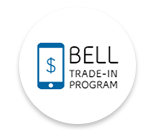 Trade in your phone or tablet and save.
Get up to a $450 in-store credit towards the purchase of a new device or accessories.
Learn more
More Samsung devices you'll love
Stay connected with just your watch.
With the Samsung Galaxy Watch, you can stay connected without your phone. It has a long-lasting battery, built-in cellular technology, and uses your phone's wireless plan features, so you can send texts, get emails and even make calls directly from your watch.
See the Galaxy Watch 46 mm
See the Galaxy Watch 42 mm
Keep track of what's important to you.
The Samsung SmartThings Tracker offers on-demand location information of your valuables, pets and in some cases even your children. Different from Bluetooth devices, it uses an LTE-M network connection.
See the SmartThings Tracker
The impressive Galaxy Tab A.
Whether at home or on the go, enjoy impressive entertainment at your fingertips. The Galaxy Tab A features Dolby Atmos sound, plus large screen sizes with minimal bezels for optimal viewing.
See the Galaxy Tab A 10.5"
See the Galaxy Tab A 8"
Customize the voice and data you need with our affordable rate plans.
View rate plans
Pair your Samsung device with the latest and greatest accessories.
Shop accessories