Devices
We offer two different categories of devices
Browse our various devices. Some can be added to our packages as part of a customized solution that is professionally monitored and installed while others are everyday home automation devices that you manage independently and don't require a monthly subscription.
You can control this fully dimmable smart light bulb from the mobile app. The bulb provides soft-white illumination that is equivalent to a 60-watt incandescent bulb.
Lamp dimmer/Appliance module
Turn an electronic device on and off from anywhere using the mobile app.
This personal device can remotely arm or disarm the system and trigger a panic alert at the push of a button.
When pushed, this button will send a panic alert to the monitoring centre.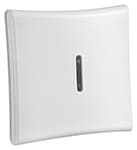 A secondary indoor siren that offers additional audible alerts for intrusion and fire.
A quote is provided over the phone and the professional installation of your services can be scheduled immediately.
Installation is quick and easy with our wireless technology. In most cases, we can also upgrade your existing equipment with our latest smart home features.1