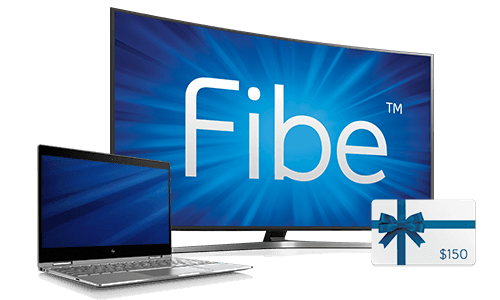 Switch to the best TV service in
a bundle.
Get a $150 gift card when you sign up for select Fibe TV and Internet bundles with a 2-year contract.††
All bundles include:
The best Wi-Fi technology
Offer details
†† Available to new residential customers or existing Home Phone customers who add and continuously subscribe to eligible Internet (min. unlimited Fibe 25 internet) and Fibe TV (min. Better package) services with a 2-year contract term. In the event of an early cancellation of your agreement, early cancellation charges tied to the card will apply, in addition to any other cancellation charges which may apply. All services must be installed/activated no later than May 15, 2019. 60 days following installation/activation of all services, the unloaded card will be sent to the customer by mail if eligible services are active and account is in good standing. Within 30 days of receipt of the card, customer must register card at https://bellgiftcard.com to allow the amount to be loaded. Allow up to 30 days for the card to be loaded and ready to use. One card per account. The card is subject to the Visa card program and its associated terms of use. If you cancel your services before you activate your card, you will not be able to use your card, in which case you will not be charged any corresponding early cancellation charges.
Fibe is a trademark of Bell Canada. Crave, STARZ, and all associated logos are trademarks of Bell Media Inc. All rights reserved. HBO®, HBO Canada®, and related service marks are property of Home Box Office, Inc., used under licence. All rights reserved. All images, artwork and trademarks are the property of their respective owners.