Some channels are not available to small business customers.
Bell gives you the chance to preview select channels each month, free of charge.
You can add channels to your programming at any time by logging in to MyBell.

ABP News International
Free preview:
June 16 – July 15, 2020
ABP News offers viewers 24-hour Hindi news. It covers the full spectrum of news ranging from politics to business, investigative reports to consumer issues, and crime to the environment.

ATN News
Free preview:
June 16 – July 15, 2020
ATN News features content from Republic TV, India's first independent media venture, and is committed to delivering original programming and in-depth analysis on news that matter, reaffirming the power and reach of independent media.
ATN B4U Music
Free preview:
June 16 – August 15, 2020
B4U Music is a hip and funky 24-hour South Asian music channel. B4U Music's programming includes the biggest musical hits from the latest Bollywood movies, the Bollywood music charts, exclusive star studded interviews, non-stop dance floor hits from both the U.S. and Europe's South Asian Music scene, interactive request shows and much more.

ATN News18 India
Free preview:
June 16 – July 15, 2020
ATN News18 India is a 24-hour news channel that gives global audiences a window into India.

ATN Times Now
Free preview:
June 16 – July 15, 2020
TIMES NOW is India's most watched general English news channel that is devoted to providing pure and relevant news to its viewers around the clock. TIMES NOW has attained the leadership position by successfully delivering news to its viewers in a vivid and insightful manner, since its launch in January, 2006.

ATN Zoom
Free preview:
July 16 – August 15, 2020
A true Bollywood insider, zoOm brings to its viewers one of its kind offering of the industry via hottest entertainment stories, big shows, movies, trends and celebrity interviews every day. The channel of choice for urban India, zoOm appeals to every film lovers' information needs on the enigmatic world of Hindi Cinema. Nothing sells like Bollywood in India and zoOm is the only channel that connects over 80 percent of urban Indian households to 100% Bollywood.

CGTN
Free preview:
June 8 – August 8, 2020
CGTN delivers global news coverage in English with a focus on China and Asia with shows like News Update, News Hour, China 24 and Asia Today.

CGTN-Documentary
Free preview:
June 8 – August 8, 2020
A window into the rich culture and heritage of China, CGTN-Documentary features outstanding documentaries on art, culture, music, science, sport and more.

CGTN-Français
Free preview:
June 8 – August 8, 2020
With 24-hour coverage and a bulletin every hour, CGTN brings you national and international news from around the world focussing on China and Asia. In French.

CP24
Free preview:
March 13 – August 31, 2020
CP24 provides news from the Greater Toronto Area and Southern Ontario in addition to national and international news. The channel delivers nine simultaneous and continuous streams of information, including weather, traffic, sports and stock market quotes. Also in HD. Also available on demand.

CTV Comedy Channel
Free preview:
June 18 – July 23, 2020
Get into the biggest sitcoms and late-night talks. A-list stand-up, hit movies and every other flavour of funny.

CTV News Channel
Free preview:
March 13 – August 31, 2020
CTV News Channel is Canada's 24-hour all-news network, delivering breaking news from across Canada and around the world. Through its partnership with CNN, ABC and APTN, Canadians also get the latest in politics, business, entertainment, sports and weather. Available on demand.

DD News
Free preview:
June 16 – July 15, 2020
The DD-News channel is India's only 24 hours terrestrial news channel which telecasts over 16 hours of live news bulletins daily in Hindi and English. News Headlines, News updates, breaking news on the scroller are regular features on this channel. DD News also carries Stock and Commodities indices throughout the day in an automated delivery mode, accessing information from NSE & BSE and leading commodity exchanges like NCDEX, MCX, etc.
GiNX Esports TV Canada
Free preview:
May 1 – July 31, 2020
GiNX Esports TV Canada is the definitive source for Canadian esports enthusiasts, featuring live tournaments, news and gaming lifestyle programming from around the world.
Leafs Nation Network
Free preview:
July 1 – July 31, 2020
Designed for the next generation of Leafs fans and feeding the passions of all Leafs fans, Leafs Nation Network delivers more diverse content, coverage, access, analysis and entertainment.
Only available to subscribers in Ontario excluding the Ottawa Valley.

NBA TV Canada
Free preview:
July 1 – July 31, 2020
NBA TV Canada offers basketball news daily, as well as programming showcasing basketball players' individual lifestyles, life as a team during the NBA season, famous games of the past and live games.

SET Max
Free preview:
July 16 – August 15, 2020
International / South Asia / South Asian
Part of the Sony Entertainment Network, a channel exclusively for Bollywood shows and Movies
Zee Cinema
Free preview:
July 1 – September 7, 2020
International / International / South Asian
Zee Cinema is the most popular Hindi Movie Channel from India that includes the largest privately held Indian video library. Zee Cinema broadcasts 24 hours a day, airing around six movies and other types of film based programming, such as black-and-white classic films and contemporary Blockbuster Bollywood movies in Hindi, as well as in other regional Indian languages.

Zee Punjabi
Free preview:
July 1 – September 7, 2020
Zee Punjabi is a Punjabi-language channel that broadcasts news, current affairs, music, movies, dramas, religious programming and more.

Zee Tamil
Free preview:
July 1 – September 7, 2020
Zee Tamil is a general entertainment channel that offers a variety of unique programs such as daily soaps, paranormal shows, travel shows, cooking shows, talk shows, films and more.

Zee TV Canada
Free preview:
July 1 – September 7, 2020
Zee TV Canada offers many choices for any type of audience, including daytime and primetime dramas, television and theatrical movies, and specials. Zee believes in bringing innovative programming to its viewers. In Hindi.
TV Anywhere™ service
Access the largest selection of channels at home and on the go on the screen of your choice.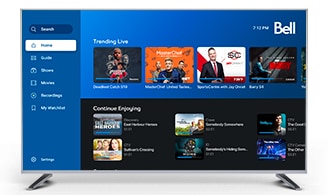 On your TV
Browse the guide using your remote or download the app on a compatible device to watch
on your additional TVs.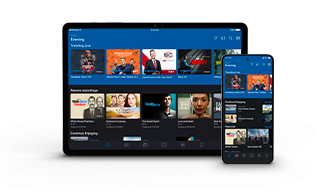 On your mobile devices
Watch TV wherever you are on an
iOS or Android device.1
Additional details
Crave, STARZ, and all associated logos are trademarks of Bell Media Inc. All rights reserved. HBO® and related service marks are property of Home Box Office, Inc., used under license. All rights reserved.